Rudolf HerzMarcel Duchamp - Le Mystère de Munich (June 21 – September 30, 2012)
on the occasion of the 100th anniversary of Duchamp's arrival in Munich (June 21, 1912)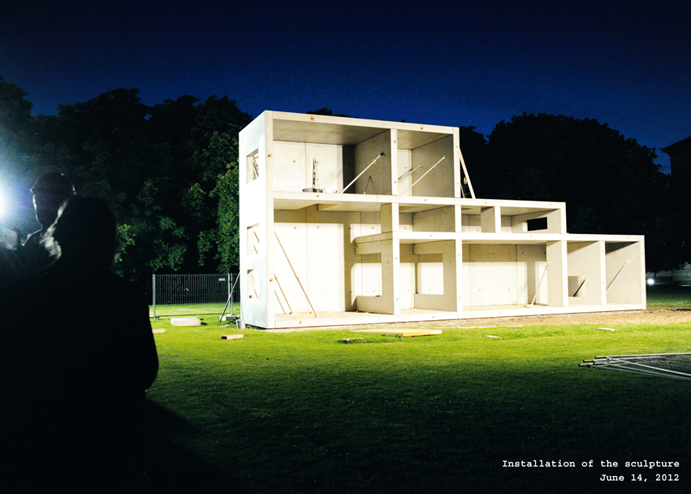 On June 21, 2012, precisely one hundred years will have passed since Marcel Duchamp arrived in Munich. He spent three months in the city, three months that were to radically change his art and turn him into one of the most influential artist of modernism. He is regarded as pioneer of conceptual art influencing numerous artists from Sol LeWitt to Ai Weiwei and still today continuously inspires new generations of artists.
On the anniversary of the French artist's arrival, Munich's Architecture Museum is presenting Rudolf Herz's latest art project "Marcel Duchamp – Le mystère de Munich", in which the artist investigates the background story of his predecessor's stay in the Bavarian capital. The project includes a sculpture as well as a new book.
The Roots of Conceptual Art: A Munich Discovery
Although, during his whole life, Marcel Duchamp (1887 – 1968) tried to erase all traces of his time in Munich, he stated about the city: it "was the scene of my complete liberation".
Rudolf Herz intensively researched the French artist's mysterious Munich sojourn. During his investigations he stumbled across where Duchamp lived at the time and was actually able to finally identify who rented out the room to the artist: a married couple named Gress, an engineer and a seamstress. Over a period of three months they provided accommodation for the young Frenchman and were also an obviously enduring source of inspiration. Duchamp was not only fascinated by Munich as the official art metropolis, but likewise found an additional focal point of his stay in meeting up with the Gress's in the flat he rented at 65 Barer Strasse. The internationally renowned contemporary artist and art historian Rudolf Herz has made this aspect the key thesis on which he bases his sculpture and book. Supported by new documentary evidence, Herz can justifiably interpret the apartment as the place where conceptual art found its beginnings.
Invited by his friend, the painter Max Bergmann, Duchamp travelled to Munich because he was curious about the art capital. There is much evidence, of course, that his everyday experiences and being witness to the budding technology of the time were at least equally momentous. Duchamp lived and worked together with the engineer and the seamstress in an extremely confined space. Traces of this situation and his environment can be identified in his pictures at the time. In Munich he found both, inspiration and material that helped him to project his thoughts and ideas into a so called art of the fourth dimension, which however, finally resulted in his inventions of readymades.
The current Duchamp exhibition in the Städtische Galerie in the Lenbachhaus has assembled a collection of Duchamp's artworks that were produced in Munich or, in a particular way are connected to the time of his stay there. Research on Duchamp has hitherto largely ignored the artist's biographical situation and how he was inspired by his everyday life in Munich. But Rudolf Herz hones in on exactly these aspects.
Sculpture and book
Rudolf Herz has adopted an unusual mode of expressing the outcome of his diligent and persistent research. "Marcel Duchamp - Le Mystère de Munich" – both the conceptual sculpture and the art book with the same title read like showpieces of a criminal investigation, full of suspense and with great depth. They open up wholly different and novel viewpoints and methodological perspectives for art-historical research. As Rudolf Herz comments, "I honed in on Duchamp's sojourn in Munich in the form of a criminal investigation. Thus, a scenario evolves that combines historical reconstruction and artistic imagination. By adopting such an approach I am venturing into new grounds and pursuing an approach that goes beyond the rigid line separating artistic work from art theory and history."
Collaborating with the architect Peter Ottmann, Herz transforms Duchamp's former flat into an outdoor sculpture. The former flat at 65 Barer Strasse which is demolished today has been reconstructed in its original dimensions and turned 90 degrees, so that the exposed form challenges the imagination of its viewers. The sculpture is made of reinforced concrete and measures 17 m in length and 7 m in height. It will be on exhibition in public from June 22 to September 30 – on the south lawn in front of the Alte Pinakothek.
Herz formulates the issue of ideas and contextuality in art in an extremely radical way. He examines Duchamp's mental milieu and his living conditions. Like a detective he discovered extremely diverse records in Munich that reveal many secrets behind Duchamp's sources of inspiration. The entire undertaking is presented in a publication that shares the same title as the sculpture. In addition to an introduction by Winfried Nerdinger and a conversation with Andreas Wutz, Rudolf Herz unfolds the content of the 300-page-thick book with the aid of sketches, diaries, historic photographic prints, architectural plans, and postcards, which are published by the Moser Verlag (Munich). Thus he presents the French artist in a totally new light and context.
There will be an English and a German edition (Moser Verlag, München) of the volume , available for 59.00 Euros, (German: ISBN 978-3-9814177-4-6; English: ISBN 978-3-9814177-5-3).
Symposium
On June 28, 2012, a symposium will take place in the Pinakothek der Moderne on the project Marcel Duchamp: Le mystère de Munich by Rudolf Herz and the exhibition Marcel Duchamp in Munich in 1912 in the Kunstbau of Städtische Galerie in Lenbachhaus.
The symposium and the book are sponsored by the Ernst von Siemens Art Foundation.
Rudolf Herz
Rudolf Herz (b. 1954) lives and works in Munich. He studied at the Academy of Fine Arts in Munich and completed his doctorate at Carl von Ossietzky University in Oldenburg. He was prizewinner in the competition for the Memorial to the Murdered Jews of Europe (with Reinhard Matz, 1997), and held his most recent exhibition in the Museum Ludwig, Cologne: Lenin on Tour, 2010.
In his work, artistic, theoretical, and historical interests frequently intersect and converge. He acquired renown in art with his very unconventional and often interventionist concepts which address issues such as the politics of memory, iconoclasm, media phenomena, and political iconography.
Press review
"Duchamp's 'Mystère de Munich' has been occupying the Munich artist, born 1954, since he happened upon the photographic portrait of the young Frenchman, taken by Heinrich Hoffmann (later known as Hitler's "personal photographer"). When Guillaume Apollinaire asked for a photograph for his book "Les peintres cubistes", a flattered Duchamp went round the corner to the nearest photo studio. Rudolf Herz was struck by the expression on the thin face, aiming at utter detachment, whose strangely stern frontal view reminded him of Dürer's self-portrait at the Alte Pinakothek. Was this a case of somebody confidently alluding to the fact that he, like the young Dürer at the time, considered himself to be at the vaguard of a new art … Rudolf Herz' criminalistic search for clues brought new facts to light and culminates in his art project: He calls it a "constructed thesis". He describes his research in a beautifully illustrated volume." (Brita Sachs, Frankfurter Allgemeine Zeitung, April 3, 2012).
Current program preview
Rudolf Herz Marcel Duchamp - Le mystère de Munich
As at Juni 21, 2012
Exhibition
Press Conference: June 21, 2012, 11:00 am
Opening: June 21, 2012, 7:00 pm
Marcel Duchamp: Le mystère de Munich (June 22 – September 30, 2012)
An exhibition of the Architecture Museum of TU, Munich
Symposium
Thursday, June 28, 2012, 12:30 pm – 8:15 pm
Marcel Duchamp 1887 - 1968
Pinakothek der Moderne, Munich
Ernst von Siemens Auditorium
Admission free
Organizer: The Architecture Museum of TU, Munich, Städtische Galerie in Lenbachhaus, Munich, in collaboration with the Udo and Annette Brandhorst Foundation, Munich
Among those present will be: Prof. Dr. Armin Zweite, Prof. Dr. Elisabeth Bronfen, Prof. Dr. Sebastian Eggenhofer (Vienna), Dr. Lars Blunck (Berlin), Prof. Dr. Hans Belting (Karlsruhe), Prof. Werner Hoffmann (Hamburg), Prof. Dr. Herbert Molderings (Bochum), Rudolf Herz (Munich).
Audio piece
The Cold Summer 1912
Realized by 48nord (Ulrich Müller, Siegfried Rössert)
A Bayerischer Rundfunk production: BR Hörspiel und Medienkunst 2012 (BR Radio Plays and Media Art 2012)
First broadcast: July 27, 2012, starting 9:03 pm on Bayern2
Live Premix in the Pinakothek der Moderne (Rotunde)
On July 16, 2012. Made possible by the support of E.ON
Artist's magazine
Free magazine "Duchamp Journal"
Sculpture

Realisation of the sculpture: Peter Ottmann, architect
Rudolf Herz also presents a multiple of the reinforced-concrete sculpture on the scale of 1:50 in MDF, steel, and aluminium.






Supported by

Ernst von Siemens Kunststiftung, Alexander Tutsek-Stiftung, Kulturreferat der Landeshauptstadt München